2003 Smart Roadster 80
£NOW SOLD
This is a rare opportunity to own a completely trouble free Smart Roadster.
We have completely stripped and rebuilt this car replacing any parts showing signs of wear. All the common roadster problems have been addressed replacing all parts that are prone to failing.
54000 Miles
12 Month MOT
£115 Road Tax
Engine Refreshed
Paddleshift Steering Wheel
Electric Folding Top
CD Player
New Brakes
New SAM
Click on the pics to view in the gallery player - More information below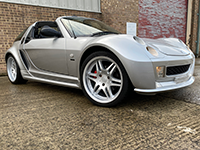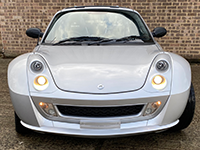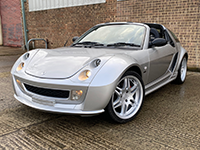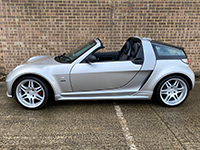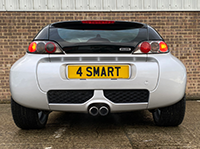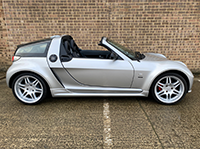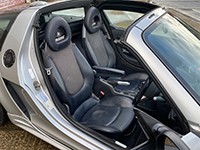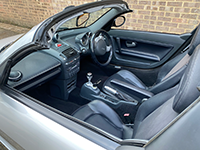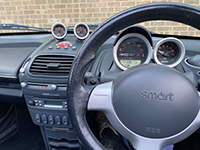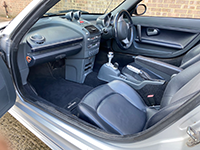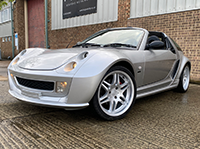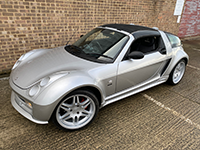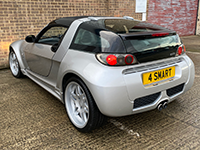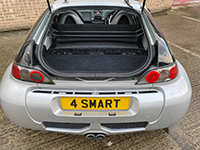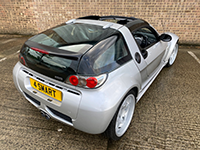 Engine
The engine is low mileage only 54,000 miles. The car has the 80HP, 700cc turbo engine can easly be remapped upto 115HP. We have removed the engine stripped and refreshed it. All internal components were ultrasonically cleaned and inspected for wear. The engine was then rebuilt replacing piston rings, conrod bearings, timing chain, exhaust valves, valve stem seals, crankshaft seals. head gasket, head bolts, spark plugs, top breather pipe, front engine mount and thermostat oil and coolant. We have added an aftermarket sump with drain plug and gasket.
Gearbox
This Roadster has a F1 style paddleshift steering wheel fitted to control the gearbox. It can be diven in fully automatic or semi automatic via the gearstick or paddles simutaiously. The gearbox was removed during the rebuild, cleaned and inspected. The crankshaft drive plate was showing signs of cracking and was replaced. The gearbox was refitted with new gearbox oil, driveshaft and crankshaft seals. Then the clutch and gearbox were recaliberated in the ECU.
Brakes
We have completely overhalled the braking system fitting new front brake discs, pads along with new rear shoes and brake fluid. We fitted a new brake light switch as it's a nother common part to fail
Drive Chain
New ABS rings fitted to the rear along with new driveshaft seals. New wishbone bushes and front anti rollbar bushes. The car has had recent ball joints replaced on the front hubs.
Electric Folding Top
The fully electric folding top has beed refurbished with new drive cables and side hoops. The canvas has been deep cleaned and sealed with a protective coating.
Interior
Carpets, seats, dashboard and door cards have been washed or steam cleaned whist removed from the car. The interior is now clean and fresh.
Sound System
Fitted with the OM Grundig CD / Radio we have added a auillary minijack connector for your phone or ipod. New upgraded Alpine door speakers and OM tweaters in dash.
List of parts replaced

Special Offer
Free clutch adjustment with all services, Servicing prices start from £110+Vat