Smart fortwo Cabrio roof repair, refurbishing service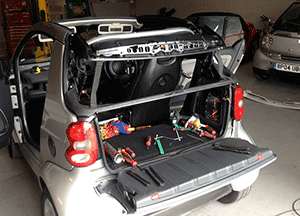 We offer a full service from a replacement e drive kit, right through to fully refurbished replacement roofs. If your roof is broken or not working properly we offer a comprehensive cabrio roof repair service.
If your window is split and needs replacing we can supply an exchange complete back canvas already fitted with a new window and fit it to your Smart.
If your roof was working fine but is now making the dreaded clicking noise then you most probably only need to have a replacement e drive kit installed. Unless there are any other issues that need attention this is a relatively inexpensive and is quickly resolved by one of our technicians.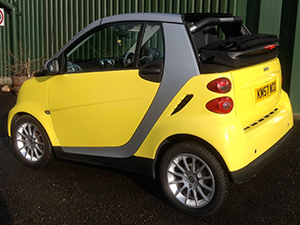 No matter what is wrong with your roof we will advise you on the best or most cost effective way of repairing it. Once you're armed with all the information you can make the decision that is right for you and your Smart.
We keep all the parts in stock for both 450 and 451 cabiro roofs so no delays waiting for parts. We offer a while you wait service if booked in advance.
We have repaired hundreds of these roofs please take a look at our feedback



450 Cabrio Pricing
Replacement Rear Window including fitting (exchange) £220
E Drive kit supplied & fitted £250
Replacement e drive + exchange window, including fitting £440
Exchange refurbished Cabrio roof fitted (subject to availability) £725
451 Cabrio Pricing
Drive cable kit supplied & fitted £252
1 x B Pillar latch & fitting £276
Drive cable Kit & 1x B Pillar latch including fitting £384
Special Offer
Free clutch adjustment with all services. Servicing prices start from £125 + Vat