Smart Roadster Speedo - Dash Display Not Working - Blank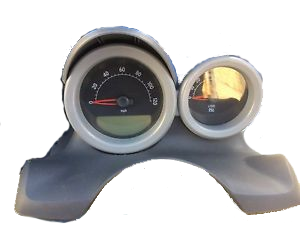 Smart Roadster 452 Instrument Cluster Display Stopped Working
Smart Roadsters often suffer a fault where the instrument cluster display or speedo stops working. This can be hard to diagnose without the correct test equipment. The problem can lie with the SAM unit, dash clocks or be a wiring fault with the Roadsters main loom.
4 Smart offer a complete diagnosis, repair and cloning service for all ECUs fitted to the Smart Roadsters. If you can get your Smart Roadster to us we have the ability to fix all these issues while you wait. Alternatively you an send us your SAM and instrument cluster then we can bench test these units together to quickly ascertain the cause of your problems.
We can then either repair the faulty unit or simply code or clone a replacement.
It is important to get the right data coded on any replacement units so the dash displays the correct mileage and all features that your Roadster has work correctly. If your Roadster mileage displays '------' when the ignition is left on then the coding on your dash clocks is incorrect. If a replacement instrument cluster has been fitted without the necessary coding then features such as padddleshift gear changes, cruise control and your horn may not work
Where possible we offer a SAM repair service. When this is not possible we can fit a refurbished replacement to your Smart.
If you can't get your Smart to us you can post us your ECUs . If a ECU repair is not cost effective we can sell you a refurbished unit, copy all the data from your old unit create a clone of your original. You then simply refit it to your car with no need for any costly recoding.
We currently have new stock of all Smart Roadster instrument clusters for sale including the obsolete Brabus Q001 8155 V001 0000 00 parts
CHRISTMAS OPENING TIMES
Due to annual leave we will be closing for the christmas period at 4pm on the 20th December and will reopen on Mon 6th January at 8:30am
We would like to take this opportunity to thank all our customers for their support this year and wish you all a happy christmas and a happy new year.